According to a survey conducted by the Academy of General Dentistry, men are less likely to visit the dentist than women are. 45% of respondents to this survey said that men don't see a need to visit the dentist. 30% said that they may not see the dentist because they are afraid or too embarrassed to go. Almost 18% of respondents stated that men just don't have time for dental visits with their busy schedules.
However, these excuses and trends may be taking a turn for the better. Today, more men are coming in for dental visits for a surprising reason. As Academy of General Dentistry spokesperson, Dr. Nick Russo, Sr., DDS, stated, "Many have noticed the positive effects from a colleague's improved smile and realize that a great smile has a lot of value in the business world."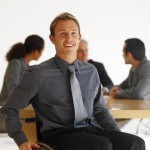 Not long ago, most individuals worked for one or two employers throughout their lifetime, making their professional appearance less of a priority. Today, however, according to Dr. Russo, lay-offs and company closures are resulting in tougher competition for jobs. And since some of these middle-aged men are competing with younger men, their smile and appearance has a greater impact.
Of course, coming to the dentist for cosmetic reasons is great! But the most important reason to come is to maintain your oral health. The best way to look and feel your best is to keep that smile happy and healthy by coming in for your regular professional cleaning appointments and exams, brushing twice daily, and flossing once a day.
So, men, don't fall for the stereotypical excuses. You have plenty of reasons to go to the dentist – reasons that have potential to benefit both your career and your health. For more information about dental hygiene or cosmetic dentistry such as in-office whitening and veneers, call our office at (208) 722-6400.