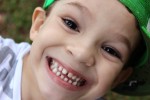 It is completely normal to feel a little anxious about taking your child for their first dental visit, but you don't need to worry! Here are some tips that will help your child learn that the dentist isn't so scary after all.
DON'T bribe your child to go to the dentist or threaten a visit as a punishment. This could result in lifelong negative attitudes.
DON'T let your child be aware of any anxiety you may feel about his or her dental visits or your own visits.
DON'T let others tell your child frightening stories about dental visits. Explain to your child that they should ignore scary stories and depend on you and the dentist for information.
DO make dental visits a fun adventure for your child.
DO remember that your positive attitude and example in all dental health matters will be the most important factor in how your child will respond to their experience.
DO schedule your child's first dental visit at an early age! Help your child learn the importance of dental care and become comfortable with the dentist early on in his or her life.
At Trailridge Family Dental, we understand the importance of helping kids to see that a visit to the dentist can be an adventure! Usually a child's very first appointment in our office is a short, fun visit to introduce them to what going to the dentist is all about. For 15 to 30 minutes, the child meets the dentist and hygienist, goes for a ride up and down in the chair, and lets the hygienist brush his or her teeth with a regular, soft bristle toothbrush. They even get to come home with a brand new toothbrush of their own and a prize from the treasure box. That way, when the child comes in again for their first real cleaning or other treatment, it is much less frightening.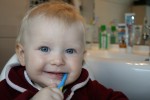 Investing in your child's smile now will make a world of difference to them later on. By helping your children overcome their fears about the dentist and instilling a habit of consistent dental visits and oral care, they will be prepared to have a healthy smile for a lifetime.