All of us at some point have had a case of "Weekend Warrior" syndrome – we think we're too cool and invincible to wear a helmet or other protective gear. We forget to protect ourselves from injuries and accidents, thinking that they could never happen to us. In particular, we forget the importance of protecting our teeth.
Many people avoid mouth guards for reasons such as cost and aesthetic image. But sometimes we all need a gentle reminder of the consequences of not wearing proper protection for your mouth. Not wearing a mouth guard could result in tooth loss, serious concussions, jaw fractures, and neck injuries. Which is really more important?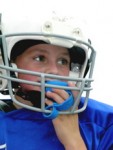 The Academy of General Dentistry estimates that mouth guards prevent approximately 200,000 injuries every year. Most people associate orofacial injuries with contact sports, like football and hockey. However, studies have shown that soccer players are more likely to sustain orofacial injury than football players. Even more surprising, basketball athletes are estimated to have a risk for orofacial injuries 15 times greater than that of football players. But it actually makes sense – football players are required to wear protective gear, including helmets and mouth guards. By encouraging athletes of other sports to wear proper protective gear, thousands of other serious orofacial injuries could be prevented.
And these statistics don't take into account other leisure sports like flag football or pick-up basketball games with friends. Without referees or officials to call rules, you may be at even greater risk for an orofacial injury. Dental professionals simply can't stress enough how important it is to wear proper protective gear.
The Academy of General Dentistry recommends that players participating in basketball, softball, baseball, wrestling, soccer, lacrosse, rugby, in-line skating and martial arts, whether for an athletic competition or leisure activity, wear mouth guards while competing. Put your armor on, "Weekend Warrior"! Trust us – your safety is worth it!