By the year 2020, 40 million Americans are projected to need at least one full upper or lower denture. Fortunately, due to new dental innovation and technology, these people won't have to go through the same months of affliction that their parents and grandparents did. Thanks to mini implants, getting a permanent replacement for your teeth that feels and looks natural will be less time consuming, more cost effective, and much less painful.
When teeth are removed, there is generally a lot of bone loss, and as time passes, the bone loss becomes increasingly excessive and causes the jaw to become small. This makes it more difficult to place a denture on that jaw because there isn't much there to hold it in place. Mini implants provide the solution to stabilizing dentures. In a mini implant case, toothpick sized titanium screws are inserted into the gums. The dentures are then put into place and anchored to the heads of these tiny screws, which keeps them from shifting and tilting.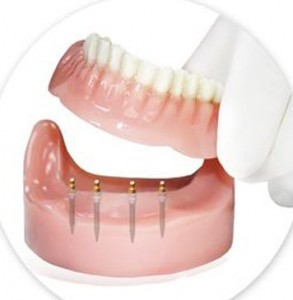 The procedure is relatively simple and typically only takes one to two hours. It requires the use of only local anesthetics and is minimally invasive, especially in comparison to the significant impact traditional implants have on gum and bone tissues. The recovery time after mini implant procedures are miraculously short; many patients are able to eat two or three hours after the surgery. Additionally, mini implants can accommodate new or existing dentures and do not require any adhesives. And because these dentures are attached securely by the mini implant screws, dentures can be made bulkier to better hold up the soft tissues of the face, which can improve the facial appearance and help people look younger.
Because the procedure and recovery of mini implant procedures are so brief, the cost of mini implants is typically very affordable. Pain from mini implant procedures (if any at all) is gone within 48 hours of the surgery, and dentures can be worn and used immediately. Long-term research shows that mini implants are successful 95 percent of the time, which is about the same success percentage as conventional implants.
For more information about mini implants, give us a call! We are happy to schedule a free consulation and answer any questions you may have about what mini implants can do for you.